Thank you for choosing Xplora. We hope that you and your child enjoy this new and more exciting way of exploring the world. The following guide will show you how to set up your X6Play.

Box content

Check the box for the following items:
NOTE: Please use only authorized Xplora accessories.
CAUTION: Risk of explosion if battery is replaced by an incorrect type. Do not remove or attempt to remove the non-user-replaceable battery. If you experience problems with the battery, please contact the customer support. If you have not already activated ya subscription for your SIM-card, please do so by following this link: https://xplora-us.gigs.com/subscription
Prepare SIM-Card
TheX6Play comes with an Xplora Connect SIM-card that must be activated before you start using the watch. Click here for a list of compatible providers.
The preinstalled SIM-card should have unlimited voice minutes and 150 MB of mobile data per month. Both prepaid and pay as you go SIM-cards will work. Make sure that the mobile data is active and deactivate the PIN code before pairing the watch.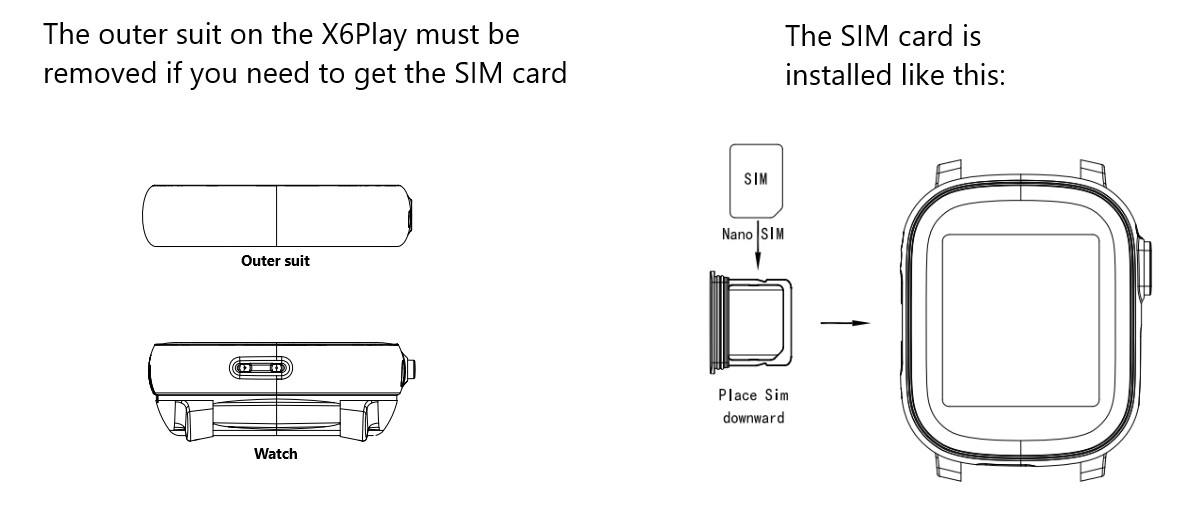 Activation
After installing the SIM-card, activate your watch with the following steps:
Make sure your watch is fully charged or connected to the charger. If the watch previously ran out of power, it might take up to 15 minutes of charging before the watch can be switched on.
Download and install the Xplora app on your smartphone:
Create a user account - Make sure to use your own phone number (not the watch's phone number) when creating a guardian account.
After creating a user account, the app will prompt you to add a watch. Press "Add device", then "Scan code". Give the app permission to access your camera.
On the watch, press the "Activation" button from the top left corner on the screen or select "QR code" from the Settings menu.
Scan the QR code shown on the watch and type in your watch's phone number.
NOTE: The service performance may vary by the mobile network coverage. Feel free to contact us via support.us@xplora.com for further assistance.